A walk through the reign
Across the seven decades of Elizabeth II's reign, Britain's food culture has been on an exhilarating ride. Angela Clutton, food writer and host of the Borough Market Cookbook Club, takes a decade-by-decade tour of the nation's attitudes towards cooking and eating, and shares a recipe inspired by the defining cookbook of each era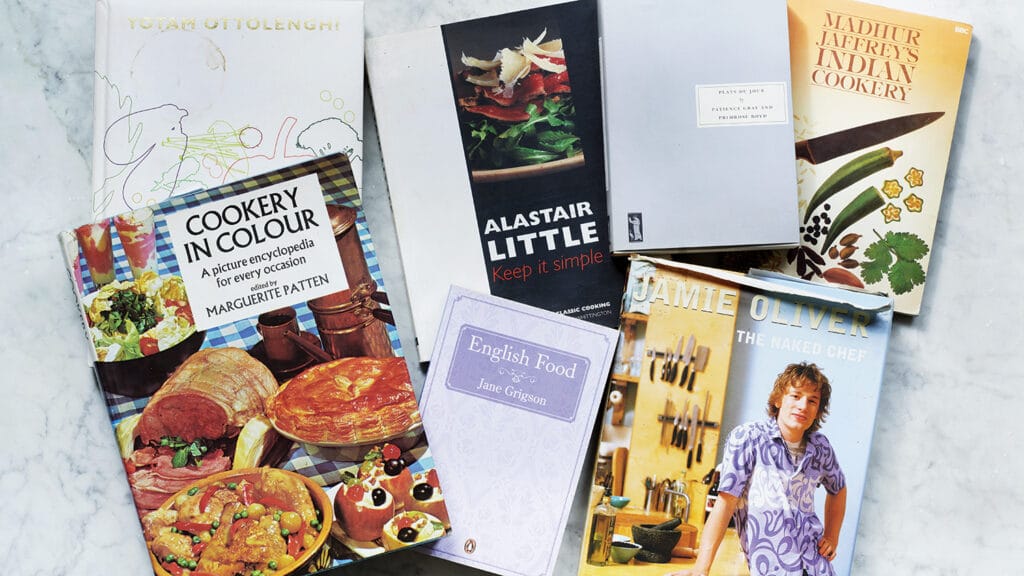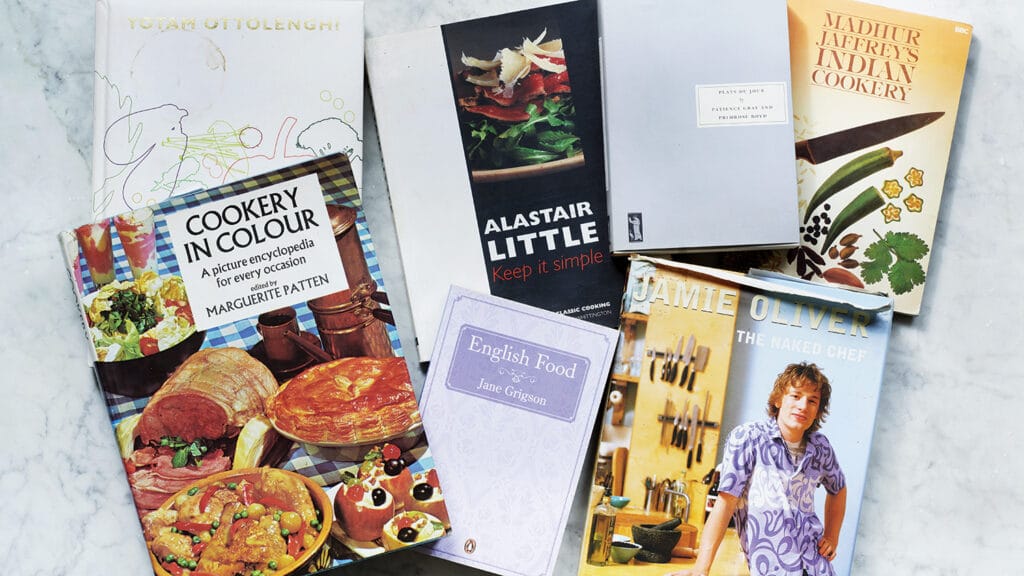 1950s
Try to imagine – although it's pretty much impossible – what it might have felt like to make it through World War II, with all its deprivations, get to the hope a new decade brings, and then find that Britain's food – much of it still rationed – was worse on the whole than it had been during the war years. That was the reality at the start of the 1950s for a nation struggling to get back on its feet.
What came next was a series of seismic changes to the way we feed ourselves. Kitchens slowly became more streamlined and electric – hello, fridges and electric cookers. Small local stores gave way to larger retailers, and the old routines of chatting with the shopkeeper were replaced with more impersonal transactions. Food production was increasingly industrialised, with a focus on standardisation and storability, causing the loss of many glorious varieties of apple, pig and so much more.
If you read that and sigh, it's only because hindsight lets us see the negative impacts of all that change. The upside for those who lived through it was that food became cheaper and more accessible. Post-war austerity gave way to late-50s prosperity.
Food writer Patience Gray latched onto that hope of better times. In her bestselling 1957 book Plats du Jour (written with Primrose Boyd), she encouraged a store cupboard filled not with canned foods but with spices, herbs and oils. Her ideal meal was a main (the plat du jour) served with "green salad, respectable cheese, fruit in season and, where possible, a bottle of wine".
Take heed of that for serving this quiche Lorraine – a dish that would become almost laughable, but in the 1950s could be enjoyed for its rustic, delicious simplicity. As Cary Grant says in the 1955 film To Catch a Thief: "It's quiche Lorraine – I think you'll like it."
1960s
They say that if you remember the 1960s you weren't really there. This possibly doesn't hold true when it comes to the decade's food, though – to have lived through that is surely to be marked forever by memories of rice moulds, piped mash potatoes, and meats and vegetables set in aspic.
Fancy some deep-friend chicken and banana (together, of course)? Or cubed lamb set in mint jelly? That's what you might have been cooking if armed with Marguerite Patten's era-defining 1961 cookbook Cookery in Colour. It sold millions of copies, feeling like a bright burst of something new after years of the same-old black and white cookbooks. Its timing couldn't have been better: that same year, the Beatles made their debut at the Cavern Club, and the lights were being switched back on across so many areas of life – music, fashion, art.
This was the decade that colour came to TV too. Families would spend more and more time gathered around a screen, and 'TV dinners' were born. A whole chapter in Cookery in Colour is given over to those. As Marguerite puts it: "The advent of television has changed eating habits in many homes. Instead of an evening meal the family enjoy a substantial snack while watching their favourite programmes. Choose food that is easy to serve and eat on a tray." The death-knell was being rung for families eating together around a dining table.
There was, however, still an appetite for good, simple cookery, featuring produce – like pigeon or rabbit – that was considered more everyday then than it is today. This recipe for braised pigeon is inspired by one from Cookery in Colour, but benefits from a few additional ingredients such as yoghurt and garlic that, from the 1960s onwards, began to be kitchen staples thanks to increased travel and immigration influencing the ingredients accessible to the home cook.
Braised pigeon with asparagus & carrots
Read Angela's take on a 1960s recipe, inspired by Marguerite Patten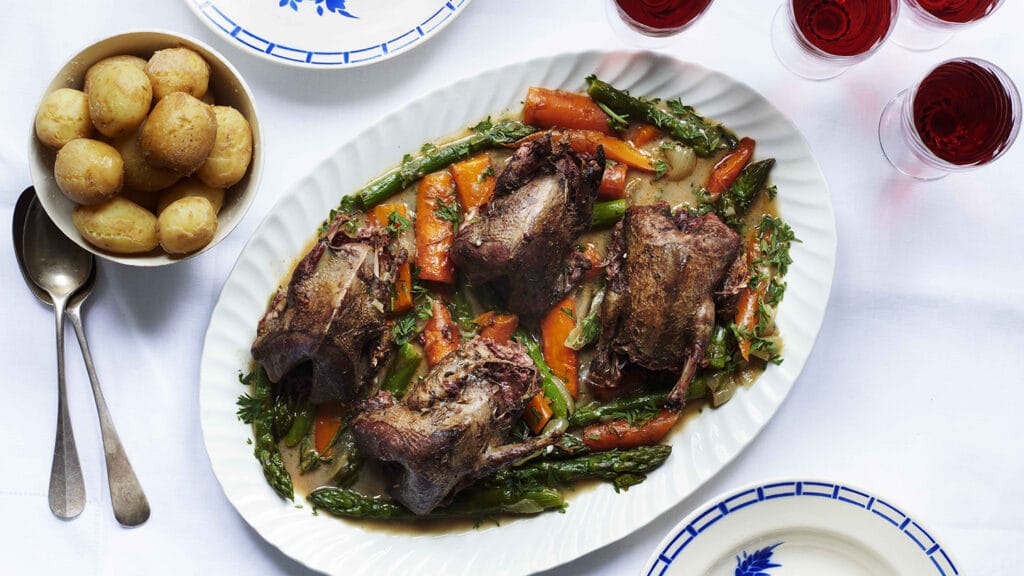 1970s
Ah, the 1970s. The decade of black forest gateau, prawn cocktail, and the raging heat of the 1976 summer heatwave. What do all those things have in common? Freezers.
The nation's supermarkets through the 1970s became fixated by their freezer aisles. Without them the aforementioned classics just wouldn't have taken hold at all. The prospect of having to do nothing more than defrost such fancy foods proved irresistible to all those in thrall to the decade's move towards convenience.
These freezers were packed too with the ready meals that became increasingly popular as more and more women went out to work. Fridges and freezers meant mealtimes were distinctly quicker and easier to manage, and the food shopping needed to be done less regularly too.
Also changing was how people spent their leisure time. Eating out became more of a reality for more people, as did foreign travel. Spain was the decade's favourite holiday spot, and holidaymakers brought back not just sombreros and sunburn but an interest in the flavours and ingredients they'd encountered. The door was opened for cooks like Claudia Roden to capitalise on that burgeoning interest in cosmopolitan culinary ideas. Her food often featured vegetables as the stars of the meal and (a real shocker this, to generations brought up on overcooked veg) were not always boiled but sometimes steamed, roasted or raw. It's maybe no surprise that vegetarianism was also on the rise through the 1970s.
This is all sounding rather marvellous, isn't it? A decade in which women were no longer shackled to frequent shopping and cooking, where there was more travel, more vegetarianism. But there was a flipside, too. The loser was seasonality. Freezing meant you could have anything, any time. We began to lose touch not just with cooking skills but with what was in season.
Legendary food writer Jane Grigson did her level best to ensure her 1970s audience didn't lose sight of those things completely. Writing in The Observer and over many cookbooks, she was a voice for tradition and, well, actual cooking – not cooking fancy food, but cooking good food.
This recipe for cherry sorbet is based on one of hers, as is the accompanying cherry sauce. It's up to you whether you do as Jane suggests and serve with a swirl of whipped cream – or even a grating of chocolate if you really want to evoke the flavours of black forest gateau. It's just the kind of ice that many a home freezer in 1976 would have been thankful for, even if a wedge of Neapolitan ice-cream was more likely to be found in there!
Cherry sorbet with cherry sauce
Read Angela's take on a 1970s recipe, inspired by Jane Grigson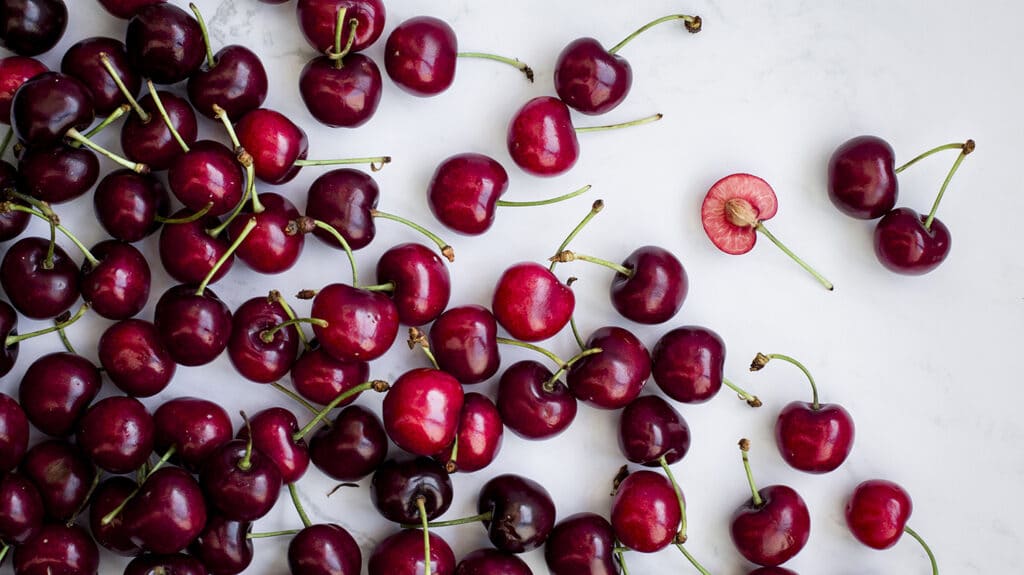 1980s
Are you a foodie? Are your friends foodies? Do you hate the word 'foodie'? If the answer to any of those is 'yes' you have the 1980s to thank for gifting us the word. 'Foodie' was first used right at the start of the decade in a New York magazine article, its birth testament to how food in the 80s was gaining cultural significance.
Or at least, restaurant food was. For this was the time of nouvelle cuisine – those teeny-tiny plates of food that left you somehow hungrier than when you started. But what about home cooking? By the 1980s Britain had got itself in a bit of a pickle on that front. The previous decade's focus on frozen foods, convenience and ready meals meant that the 1980s home cook had become rather dissociated from actual cooking. Skills were under threat, and the basics seemed a mystery for many.
A saviour arrived in the form of Delia Smith – safe, reliable, relatable Delia, who showed a generation of homemakers how simple and satisfying home cooking could be. On the face of it there was nothing edgy about Delia's food, and yet she nudged our national culinary sensibilities forward, gently embracing the foods of cultures such as Greece, France, Italy, China and Thailand.
Delia's TV cooking show was joined by those of international chefs such Ken Hom (who made having a wok a British kitchen essential) and Madhur Jaffrey. Madhur took to cooking after she arrived in London to train as an actress, was appalled at the state of the food here, and asked her mother to send recipes so she might be able to cook the dishes she missed. Her shows and books brought colour, flavour, freshness and spice into kitchens across the country, while challenging perceptions of what Indian food might mean.
This recipe for dal with crisped onions is heavily based on ones featuring in her book Indian Cookery, which accompanied her 1980s TV series. I have swapped her moong dal for urid dal, but otherwise the flavours and techniques are all Madhur's. Serve as part of a medley of Indian dishes or simply with an Indian bread.
Sookhi urid dal with crisped onions
Read Angela's take on a 1980s recipe, inspired by Madhur Jaffrey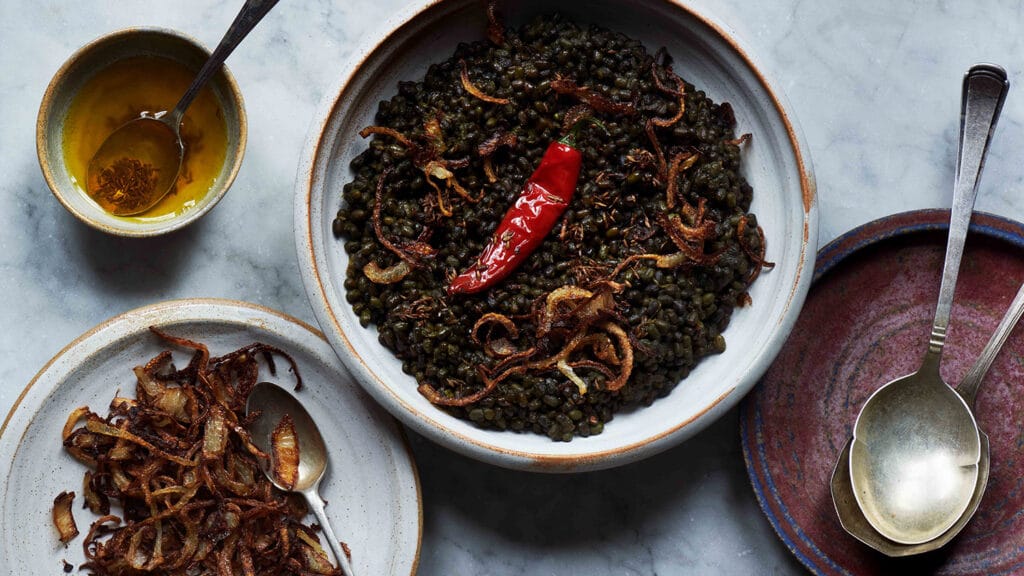 1990s
Was it even possible to eat out in the 1990s without having sun-dried tomatoes or balsamic vinegar? I'm not sure it was. And often they'd turn up in dishes they really had no place to be. Such was the allure of food fashion as the millennium approached, with shoppers becoming more interested in what they were buying, how it was made and where it was coming from.
Words like 'organic' were being used more. 'Local' started to mean something again. Farm shops opened to sell directly to the consumer, and farmers' markets flourished. Borough Market was both a leader and a beneficiary of these shifts. Traders such as Neal's Yard Dairy, Brindisa and Turnips – all still held dear by shoppers today – were among the first to open retail units in the Market's empty warehouses. In 1998 some of the top food producers in the country gathered at Borough for a Food Lovers' Fair. The rest is history.
That growth of interest in food was in part driven by a growing cultural fixation with high-end restaurants and chefs. As the 1990s came round, chefs became celebrities, courted by magazines and TV shows. If eating out was the new rock and roll, as so many journalists were so keen to write, many chefs were happy to take on the bad-boy mantle (they were, after all, mainly men). A few others took the opportunity to step out of the restaurant kitchen and into our homes as a way of spreading their love of good food. Alastair Little was one of those.
In the 1980s Alastair had made his name as head chef at L'Escargot, before opening his eponymous restaurant in Soho to huge acclaim. In the 90s, he published Keep it Simple, a cookbook aiming to be "a fresh look at classic cooking". Typical of the time, its recipes are a little cheffy but also achievable for the ambitious home cook who wanted to have a go at the kind of techniques they'd read about chefs using. This mussel soup with saffron is based on one from that book.
2000s
How would our food culture rise to meet the hopes and expectations of a new millennium? What new voice would break through to epitomise the changing times? Who would guide us into the next stage of our culinary evolution? The answer would be found in the kitchens of the famous River Cafe, cooking away with a "bish, bash, bosh" attitude and a scruffy haircut.
I mean Jamie Oliver, of course. Who else? First spotted while a documentary was being made about the River Café, before weaving his moped through the heady days of late 90s laddism in The Naked Chef, Jamie went on to achieve huge success and make a genuine difference to how Britain eats.
His appeal was rooted in the accessibility of both his personality and his food. He'd grown up in pub restaurants, worked under Antonio Carluccio and Gennaro Contaldo before reaching River Cafe, and every step of his culinary heritage showed in the food. British classics were not so much re-invented as re-loved, with a fair dash of European influence thrown in too.
Jamie made it seem cool and aspirational to be on first-name terms with your fishmonger and greengrocer. Consumers who for decades had become increasingly disengaged from the provenance of food, were persuaded to care about the impact our food choices can have on animal welfare, our own health and the environment.
Jamie Oliver is the inspiration behind this traybake of salmon fillets with vegetables. Lovely jubbly – as the man himself might once have said.
Salmon & roasted veg tray-bake
Read Angela's take on a 2000s recipe, inspired by Jamie Oliver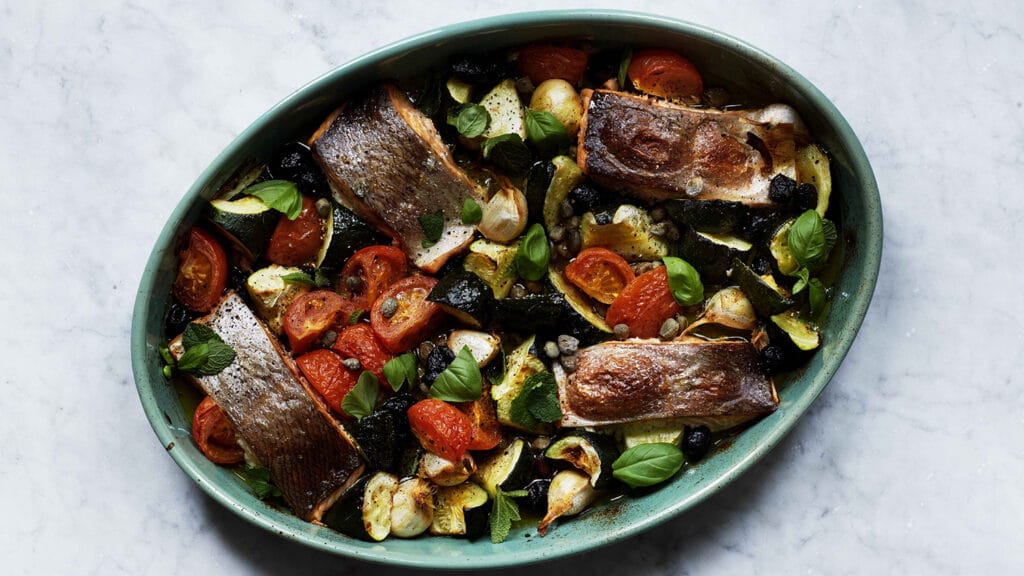 2010s
Who among us could have imagined the cultural impact of some amateur cooks gathering in a bunting-strewn tent for a baking competition? Certainly not me. You could have knocked me over with a Victoria sponge when The Great British Bake Off landed on our screens in 2010 and became a huge hit. I was surprised, pleasantly so, that something so simple and wholesome could be so popular.
The zeitgeist was well and truly hit. Bake Off offered comfort, something unchallenging to unwind to amid the very challenging economic picture faced by Britain in the wake of the 2008 global economic crash. It is often said that while people might watch a lot of TV cooking programmes, that doesn't mean they necessarily get into the kitchen and actually cook. But there can be no doubting the impact of Bake Off – baking took off in a big way.
Perhaps that's in part why the big blousy meringues piled up in a small shop window in Notting Hill so captivated London's food trendsetters. They were helped along by the huge platters of beautiful vegetables and grains alongside that had been dressed into heavenly flavour balance with za'atar, sumac, rosewater, pomegranate molasses and more. I'm talking about Ottolenghi, if you haven't already guessed – helmed by Yotam Ottolenghi and Sami Tamimi, and responsible for changing significantly how we cook and eat.
That is no throwaway exaggeration. I've already mentioned a few of the ingredients that Ottolenghi made mainstream. Perhaps the most 2010s of them all is tahini, a glorious sesame seed paste that became pretty much essential to have in the fridge. It could bring even the staidest of ingredients to life, and in the case of cauliflower it absolutely did.
Pre-Ottolenghi, British cauliflower was boiled into submission or baked with a cheese sauce, neither iteration covering us in much culinary glory. Post-Ottolenghi, cauliflowers were being roasted whole or as florets, with tahini and other Ottolenghi ingredients doing all they could to change hearts and minds upon this not-much-loved vegetable. It worked, of course. Where Ottolenghi goes we all follow.
Roasted cauliflower with spiced chickpeas & tahini
Read Angela's take on a 2010s recipe, inspired by Yotam Ottolenghi